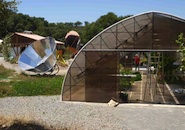 I spent the latter part of 2010 in southern Germany with Sunvention. In early January, Sunvention, was able to come to agreement with a prominent Swiss Foundation to become a majority owner of Sunvention.
The Foundation's main mission is to bring technologies to poor villages in developing countries, and this alignment with Sunvention's core purpose will allow Sunvention to focus on products with the highest humanitarian impact.
Sunvention plans to complete development of some key products and bring them to market in 2011. These products include: SunPulse Water, a solar thermal pump; SunPulse Electric - an off-grid power system; and the SunRay - a heat collection systems for greenhouses;
Sunvention's team has come back together, and production has commenced at their Indonesian partner - ATMI. Distribution will begin initially in India and Indonesia.
Sunvention are still very interested in an investor for the SunPulse Water which has the potential to be commercially viable and have a significant impact.
Their website should be up soon;
Please contact me if you are interested in investing.